Host
Shane Adams
Broadcast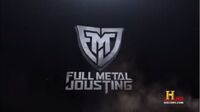 History Channel: 2/12/2012 - 4/15/2012
Packager
Pilgrim Films & Television
Full Metal Jousting
featured sixteen contestants who are split into two teams of eight competed in full-contact competitive jousting. One by one, the contestants are eliminated until only one remains. That contestant will receive $100,000 in cash.
The title itself is a spoof of the classic 1987 Stanley Kubric film Full Metal Jacket.
Ad blocker interference detected!
Wikia is a free-to-use site that makes money from advertising. We have a modified experience for viewers using ad blockers

Wikia is not accessible if you've made further modifications. Remove the custom ad blocker rule(s) and the page will load as expected.