Host
Fonzworth Bentley
Boradcast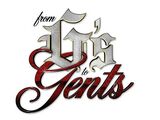 MTV (season 1): 7/15/08-4/10/09; (season 2): 2/10/09-4/14/09
From G's to Gents
was a short-lived, two-seasoned only reality show which featured misguided young men who are willing to change their lives to become gentlemen.
The objective of the show is to make the transformation from a roughneck to a sophisticated within the given time.
Voting Process
Edit
The voting procedure differs from other voting processes, due to the use of an "Ebony Sphere" or "Black Ball" to decide the fate of other cast members. each player places a BlackBall in the corresponding box labeled with an opposing players name. At the time, the two (or more) players with the most votes are taken in front of Mr. Bentley himself. The chosen players are the assessed and Mr. Bentley alone makes the final decision.
Catchphrase
Edit
"Membership denied; please remove your blazer!"
The show was created and executive produced by comedian, singer and actor Jamie Foxx.
Host Fonzworth Bentley was best known for being Sean Combs' former personal valet and assistant.
Ad blocker interference detected!
Wikia is a free-to-use site that makes money from advertising. We have a modified experience for viewers using ad blockers

Wikia is not accessible if you've made further modifications. Remove the custom ad blocker rule(s) and the page will load as expected.