Host/Judge
Common
Judges
Nolen Niu & Brandon Gore
Broadcast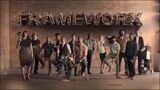 Spike TV: 1/6/2015-3/10/2015
Packager
Mission Control Media
Framework is a new arc reality competition series exploring the compelling world of furniture design/construction.
Over a grueling 10-week competition, 13 innovative and aspiring furniture builders will put their artistry and skill to the test in a series of challenges. The builders will use unconventional materials, rethink classic furniture pieces and incorporate a variety of techniques and disciplines to demonstrate the mastery of furniture creation. In each episode, a contestant will be eliminated by a panel of judges comprising Common and two of the most influential names in the furniture world of today: Nolen Niu and Brandon Gore.
Ad blocker interference detected!
Wikia is a free-to-use site that makes money from advertising. We have a modified experience for viewers using ad blockers

Wikia is not accessible if you've made further modifications. Remove the custom ad blocker rule(s) and the page will load as expected.