Host
Jesse Palmer
Judges
Andrew Gruel
Alpana Singh
Steak Shapiro
Broadcast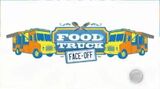 Food Network: 9/28/2014-12/18/2014
Packager
Peace Point Entertainment Group
Food Truck Face Off is a reality competition series where it pits two teams against one another in order to win their own customize food truck.
Four teams with food truck dreams present their unique concepts to an expert panel of judges, but only two teams are chosen to face off in a truck-on-truck showdown. The team that makes the most money over the course of two intense days emerges victorious.
Late Night Chef Fight - a reality cooking competition show with a similar premise airing on FYI in 2014
Ad blocker interference detected!
Wikia is a free-to-use site that makes money from advertising. We have a modified experience for viewers using ad blockers

Wikia is not accessible if you've made further modifications. Remove the custom ad blocker rule(s) and the page will load as expected.