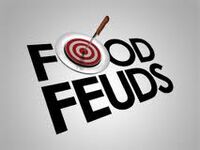 Regional food rivalries across the country are explored in this reality series.
Broadcast
Edit
Food Network: October 10, 2010-present
Michael Symon
In each episode, Chef Michael Symon travels from city to city to settle some of the most famous food rivalries/feuds in the country. Symon visits both establishments, see how the specialties are prepared, tries both dishes up for the challenge, then talks with local food critics and fans to help him decide who should win. At the end, a final critique of the specialty is conducted by Symon himself (the only judge). He bases the food on three criteria: appearance, taste and overall product while both challengers stand by to find out if they will receive the Food Feud trophy and be crowned the champion.
Ad blocker interference detected!
Wikia is a free-to-use site that makes money from advertising. We have a modified experience for viewers using ad blockers

Wikia is not accessible if you've made further modifications. Remove the custom ad blocker rule(s) and the page will load as expected.