Host
Dave Holmes
Broadcast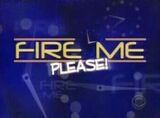 CBS: 6/7/2005 - 7/5/2005
Packager
LMNO Productions
Fire Me...Please
(or
Fire Me...Please!
) was a short-lived hour-long hidden camera summer reality show that was based on a British format called
The Sack Race
featuring two people starting new jobs on the same day, with an unusual goal of getting fired by 3 pm.
Two contestants each reported to a new job at separate locations and figure out how to get fired as close to 3:00 p.m. as possible (the store owner are in on the gag, but the managers are not) When the contestants are fired, they report back to Holmes and whoever was fired first at the right time wins $25,000 in cash.

The show was to believed to be the first reality show to employ a "laugh track".
The show was also believed to be the first reality series to have one half of an episode feature a repeat, and the other half feature new material. Although critics were not overwhelmed, the series did fairly well in the 18-49 demographic, often placing second against the popular drama House.
The show was announced as one of the debut selections on CBS's Innertube website in May 2006, but never appeared on the website.
The show's on-air titled was Fire Me, Please! but CBS insisted the official title as Fire Me...Please.
The show was a four-episode special only.
Ad blocker interference detected!
Wikia is a free-to-use site that makes money from advertising. We have a modified experience for viewers using ad blockers

Wikia is not accessible if you've made further modifications. Remove the custom ad blocker rule(s) and the page will load as expected.