Broadcast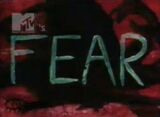 MTV: 9/21/2000 - 4/28/2002
Packager
MTV Networks
Fear (not to be confused with Fear Factor) was a show where it followed a group of five or more contestants being left at an allegedly haunted location and led them on a series of dares over two nights to explore and confirm whether or not the place is haunted.
Contestants must explore an allegedly haunted abandoned location in the middle of nowhere by completing dares for $5,000.

Voodoo by Godsmack main theme First Day of Nowhere by Sinnisstar end theme used in the second and final season of the series
The series was originally titled as Dare.
The series was also known as MTV's Fear.
Similar Shows
Edit
Scaredy Camp
Paranormal Challenge
Merchandise
Edit
A DVD called Inside Fear was released on November 6, 2001.
Ad blocker interference detected!
Wikia is a free-to-use site that makes money from advertising. We have a modified experience for viewers using ad blockers

Wikia is not accessible if you've made further modifications. Remove the custom ad blocker rule(s) and the page will load as expected.