Host
Mark Thompson
Announcer
John Driscoll
Broadcast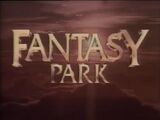 FOX: April 13, 1991
Packager
Azoff Television
Brad Lachman Productions
Fantasy Park was a one-time special that awarded selected viewers who had previously called a special telephone number to win outlandish dream prizes.
One of the prizes includes: a six-pack of classic automobiles (including a 1965 Mustang convertible, a 1957 Chevrolet, a 1959 Pink Cadillac, a 1969 G.T.O, a 1957 Ford Thunderbird Roadster and a 1963 Corvette Stingray), a job as a record company executive, $20,000 worth of tickets to concerts and sporting events, $10,000 in Cash or a condo on the beach in Hawaii. Winners for each of the fantasies were selected by computer. Three people were chosen to vie for the condo in Hawaii and they were flown to the studio in Los Angeles in order to determine the winner. The contestants were shown two telephone numbers, only one which was a direct line to Hawaii. The first player to get through won the home.
Ad blocker interference detected!
Wikia is a free-to-use site that makes money from advertising. We have a modified experience for viewers using ad blockers

Wikia is not accessible if you've made further modifications. Remove the custom ad blocker rule(s) and the page will load as expected.