Hosts
Mike Malin & Lonnie Moore
Broadcast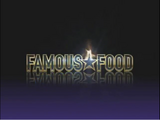 VH1: 6/10/2011-9/7/2011
Packager
51 Minds Entertainment
Famous Food was a short-lived reality series where seven celebrities worked to open and take ownership in a restaurant owned by Mike Malin and Lonnie Moore of The Dolce Group.
The celebrity contestants would work to launch Famous Food, a Hollywood restaurant, with their skills being tested in challenges. At the season's end, the winner would be given a partnership stake in the business.
DJ Paul of Three 6 Mafia was the winner of the partnership but after a twist, the judges awarded a second partnership to Danielle Staub.
The restaurant created on the show called "Lemon Basket" was closed after five months after the opening.
Mike Malin competed and won on Big Brother and Big Brother 7: All-Stars.
Ad blocker interference detected!
Wikia is a free-to-use site that makes money from advertising. We have a modified experience for viewers using ad blockers

Wikia is not accessible if you've made further modifications. Remove the custom ad blocker rule(s) and the page will load as expected.