Host
Bob Eubanks
Announcer
Dean Miuccio
Broadcast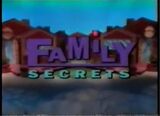 NBC Daytime: March 22, 1993 - June 11, 1993
Packagers
Dave Bell Productions
From the Disney-MGM studios in Orlando, it's the game show that has America talking, it's FAMILY SECRETS! And here's the star of Family Secrets, BOB EUBANKS!
Family Secrets was a short-lived family game show originating from Orlando, Florida.
Two families, consisting of two parents and one child, competed.
In round one, the parents were brought into isolation, then the kids were asked two questions about their dad. Their dads were then brought out of isolation, and were asked for their answers to the same questions. Each match was worth $100. The process is then repeated with two questions about their moms.
In round two, the kids are put in isolation. The parents are then asked two questions about their kids. The kids were then brought out to answer the same questions, with each match being worth $200.
Final question
Edit
For the last question, a numerical question about the average American family was asked. Each family had ten seconds to write down their answer. The family that came closest won $500. The family with the most money (out of a possible $1,300) at the end of this round won the game, an extra prize, and moved on to the bonus round.
NOTE: Should both families be tied in answer, then the family with the higher score won the game and the additional $500. If there was a tie in money totals at the end of the game, a second numerical question was asked.
Bonus round
Edit
In the bonus round, the child would hear a category, and pick which parent would answer a question in that category. If the family could answer three questions correctly before getting three wrong, they win a trip.

Cancellation
Edit
The show was canceled after twelve weeks of episodes not only due to low ratings, but also because the show's contestants constantly failed to meet NBC's game show eligibility requirements.
Ad blocker interference detected!
Wikia is a free-to-use site that makes money from advertising. We have a modified experience for viewers using ad blockers

Wikia is not accessible if you've made further modifications. Remove the custom ad blocker rule(s) and the page will load as expected.