Host
Erin Myers
Broadcast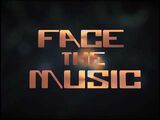 Unsold Pilot: October 2009
Packager
Sandy Frank Productions
Main Game
Edit
In the main game, four contestants locked in isolation booths compete for the right to play for $1,000,000.
In part one, the contestants were asked a series of musical questions. The first player to buzz-in had a chance to answer the question. The first player to score three points went on to part two.
In part two, the winner of part one was faced with eight CDs numbered 1 to 8. Behind each is a dollar amount which altogether totals $25,000. Erin asks the contestant up to eight music questions one at a time. On each question, giving the correct answer earned a CD pick, and whatever dollar amount was back there became his/hers. The contestant can stop before another question was asked and keep all of the money; because if at anytime the player missed a question, s/he lost half his/her cash and the round was over.
The process goes on for three rounds and with one catch: The isolated players will not know how much each winner from part one had accumulated until after part two is finished if and when they make it there. All part one winners gets to keep the money they've won, but the player with the most money went on to play for $1,000,000.
Bonus Game
Edit
The winning contestant tried to identify musical pictures covered up by jigsaw puzzle pieces. On each picture puzzle, the winning contestant had 60 seconds to answer as many questions as s/he can. All questions were about the year the picture puzzle was taken. Each correct answer removed one piece, randomly chosen by computer. When the time was up or enough questions were answered to remove all the pieces, the winning player had 10 seconds to guess who that face belongs to. A correct answer won money and the more puzzles they solve, the more money they can win and the bigger the cash prize, the harder the puzzle as two additional pieces were added to the board for each new puzzle. Now here's how the money grows:
| Puzzle Pieces | Prize |
| --- | --- |
| 6 | $25,000 |
| 8 | $50,000 |
| 10 | $100,000 |
| 12 | $250,000 |
| 14 | $500,000 |
| 16 | $1,000,000 |
If the winning contestant can solve six puzzles correctly, s/he wins $1,000,000. But if at anytime s/he fails to solve a puzzle, that player loses all the money; that's why to prevent this from happening, the player can stop and take the money before going for the puzzle.
Video Links
Edit
Ad blocker interference detected!
Wikia is a free-to-use site that makes money from advertising. We have a modified experience for viewers using ad blockers

Wikia is not accessible if you've made further modifications. Remove the custom ad blocker rule(s) and the page will load as expected.