Host
Marsh Mokhtari
Broadcast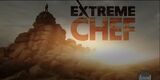 Food Network: 6/26/2011-9/13/2012
Packagers
Smart Dog Productions
Valencia Productions
Extreme Chef was a short-lived, two season only reality competition series which takes seven of America's most fearless chefs out of their kitchens and drops them into some of the most extreme locations.
Over the course of five episodes, from the scorching deserts of California to the exotic jungles of Thailand, the chefs test their physical prowess, mental toughness and culinary skills as they compete in grueling and seemingly impossible culinary challenges including pulling out needles from a cactus pad to create a tasty dish, and creating a meal in 60 minutes on a floating dock, while the chefs rescue their ingredients from a capsized fishing boat in the ocean. Each episode features the chefs competing in challenges judged by a rotating panel of notable guest judges, with the bottom two chefs facing off in a final showdown challenge to determine which chef goes home. In the end, one chef will be able to consider themselves to be the most "Extreme" while taking home a $50,000 grand prize.
Ad blocker interference detected!
Wikia is a free-to-use site that makes money from advertising. We have a modified experience for viewers using ad blockers

Wikia is not accessible if you've made further modifications. Remove the custom ad blocker rule(s) and the page will load as expected.