Host
J.D. Roth
Broadcast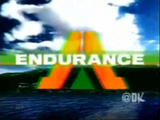 NBC & Discovery Kids: 10/5/2002 - 3/8/2008
Packager
3Ball Productions
Endurance is a American reality television children's program, currently shown on the Hub cable network in the United States and also on networks in other countries. The show's format is somewhat similar to the CBS television series Survivor, but with a teenaged cast. Like that show, Endurance contestants live in a remote location and participate in various mental and physical challenges, although Endurance contestants compete as pairs (one boy and one girl), and the outcome of the competitions determines which pair of players is eliminated.
Inventors
Edit
J.D. Roth and Todd A. Nelson

This show also reran on Azteca America dubbed in Spanish.
Ad blocker interference detected!
Wikia is a free-to-use site that makes money from advertising. We have a modified experience for viewers using ad blockers

Wikia is not accessible if you've made further modifications. Remove the custom ad blocker rule(s) and the page will load as expected.