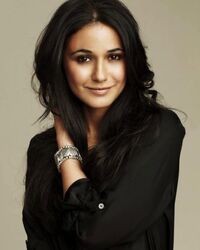 Emmanuelle Sophie Anne Chriqui (/ᵻˈmænjuːl ˈʃriːki/; born December 10, 1977) is a Canadian film and television actress. She is known for her performance on HBO's Entourage as Sloan McQuewick, as well as Dalia, the love interest of Adam Sandler's character in You Don't Mess with the Zohan. She is also known for her role on The Mentalist television series as Lorelei Martins, accomplice to Red John. In May 2010, she topped the AskMen.com Most Desirable Women of 2010 list.
Ad blocker interference detected!
Wikia is a free-to-use site that makes money from advertising. We have a modified experience for viewers using ad blockers

Wikia is not accessible if you've made further modifications. Remove the custom ad blocker rule(s) and the page will load as expected.