Host
Jay Montepare
Judges
Amanda Dameron & Christiane Lemieux
Guest Judge/Executive Producer
Ellen DeGeneres
Broadcast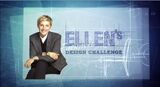 HGTV: 1/26/2015-present
Packager
A Very Good Productions
A. Smith & Company Productions
Telepictures
Ellen's Design Challenge (or Ellen's Furniture Design Challenge) is a reality competition series featuring contestant trying to win a cash prize by designing a unique piece of furniture with help from a expert carpenter.
Six competitors tackle ingenious challenges to sketch, design and build extraordinary furniture. the competition series requires contestants create inventive furniture designs to avoid elimination. The last competitor standing receives a $100,000 cash prize (courtesy if Wayfair.com) and gets to see their work featured in HGTV magazine.
Ad blocker interference detected!
Wikia is a free-to-use site that makes money from advertising. We have a modified experience for viewers using ad blockers

Wikia is not accessible if you've made further modifications. Remove the custom ad blocker rule(s) and the page will load as expected.