Host
MC Search
Broadcast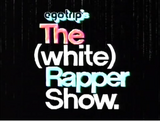 VH1: 1/8/2007-2/26/2007
Packager
10 by 10 Entertainment
Ego Trip's The (White) Rapper Show was a short-lived reality competition series in which 10 white rappers (both male and female) competed with each other for the chance at a $100,000 grand prize.
twelve contestants (male and female) hailing from all over America will have to find a way to make it through challenges that will test their musical cred. knowledge of hip hop culture and their ideas about race along the way, hip hop pioneers of all hues will be brought in to school and critique our eager rappin' competitors. the winner receives $100,000 and a whole nation of devoted fans.
Ego Trip's Miss Rap Supreme - the spinoff/sequel of sorts of The (white) Rapper Show that also aired on VH1 in 2008.
Ad blocker interference detected!
Wikia is a free-to-use site that makes money from advertising. We have a modified experience for viewers using ad blockers

Wikia is not accessible if you've made further modifications. Remove the custom ad blocker rule(s) and the page will load as expected.