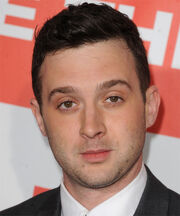 Eddie Kaye Thomas (born October 31, 1980) is an American film, television, and stage actor and comedian who rose to prominence as Paul Finch in the American Pie film series. He is also known for his roles as Andy Rosenberg in the Harold & Kumar series and as Jeff Woodcock in 'Til Death. He is currently starring in the CBS show Scorpion as Dr. Tobias "Toby" Curtis.
Ad blocker interference detected!
Wikia is a free-to-use site that makes money from advertising. We have a modified experience for viewers using ad blockers

Wikia is not accessible if you've made further modifications. Remove the custom ad blocker rule(s) and the page will load as expected.