Judges
Jose Jose
Paty Diaz
Garciela Beltran
Sergio Mayer
Broadcast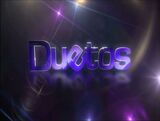 Estrella TV: 2010-present
Packager
Liberman Broadcasting
Duetos is A Spanish-language talent competition where 24 contestants will compete to try and win $100,000. This has pairs of performers, hence the name.

A similar English language show called Duets would air two years later.
Ad blocker interference detected!
Wikia is a free-to-use site that makes money from advertising. We have a modified experience for viewers using ad blockers

Wikia is not accessible if you've made further modifications. Remove the custom ad blocker rule(s) and the page will load as expected.