Host
Lonnie Shorr
Announcer
John Harlan
Broadcast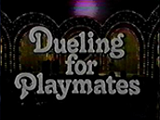 Playboy Channel: 8/7/1983-8/30/1988
Packager
Michael Trikilis Productions
Dueling for Playmates was a game show where two men competed to win a date with a Playboy Playmate.
The game consisted of four rounds.
In the first round, the men tried to predict how the Playmates responded to certain questions, earning points for a correct guess.
In the second round, the men were put in a mud pit and raced to place as many balls (literally) on a ledge as they could in a specified time limit, earning points for each ball.
In the third round, the men were shown a film profile of each Playmate and were asked questions about it, earning points for correct answers.
Final Round
Edit
In the fourth and final round, each of the men did a strip tease before a panel of four Playmates, who rated them on four categories (Personality, Body, Movement, and Sensuality). The men earned points based on the total rating.
---
The man with the most points won the game and the date with the Playmate.

Ad blocker interference detected!
Wikia is a free-to-use site that makes money from advertising. We have a modified experience for viewers using ad blockers

Wikia is not accessible if you've made further modifications. Remove the custom ad blocker rule(s) and the page will load as expected.