Hosts
Robert Irvine (Seasons 1-4, 6-8)
Michael Symon (Season 5)
Broadcast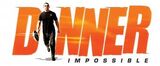 Food Network: 1/24/07 - 5/24/11
Packagers
Marc Summers Productions
Shooters Post & Transfer Television Productions
Dinner: Impossible was a reality cooking challenge game show.
The chef (Irvine or Symon) is given a mission by somebody. The mission is to make a lunch/dinner in less than whatever hours the person says to do it in. There is a team of people who have to cook all of this food in less than those hours the person says. There is also a countdown timer on screen to indicate how much time is left. If the team completes all the food in less than those hours, they win the game and give the food to those people. If the team fails, they lose the game and still serve the food anyways. Either way, win or lose, the chef (Irvine or Simon) still thanks the guests and meets most of them.
Restaurant: Impossible - a similar premise to Dinner but they have to renovate a failing restaurant
Ad blocker interference detected!
Wikia is a free-to-use site that makes money from advertising. We have a modified experience for viewers using ad blockers

Wikia is not accessible if you've made further modifications. Remove the custom ad blocker rule(s) and the page will load as expected.