Host
Andrew W.K.
Broadcast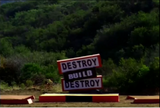 Cartoon Network: 6/20/2009 - 9/21/2011
Packagers
Mess Media
Idiot Box Productions
Destroy Build Destroy was a reality game show in which two groups (a "green" team and an "orange" team) of three teenage contestants get to destroy various objects, then use the wreckage to build machines with which to compete.
The show features high-powered explosives, rocket launchers, bazookas and other dangerous weapons. The winning team gets $3,000 as a prize; the losers' creation then gets destroyed by the team of the winning vehicle.
In Popular Culture
Edit
Destroy Build Destroy was spoofed on a 2011 episode of Cartoon Network's MAD, where DBD squared off against Bob the Builder. The segment was called Destroy Bob the Builder Destroy. Andrew W.K. and the contestants destroy all of Bob's construction vehicles and making them into something else, and then destroying them again. Bob then stands up for himself by making a robot out of his vehicles. Bob ends up winning the match by beating Andrew W.K. 
Dan Taberski and Scott Messick

Ad blocker interference detected!
Wikia is a free-to-use site that makes money from advertising. We have a modified experience for viewers using ad blockers

Wikia is not accessible if you've made further modifications. Remove the custom ad blocker rule(s) and the page will load as expected.