Judges
Abel Gonzalez
Butch Benavides
Jim Stacy
Broadcast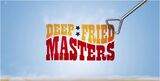 Destination America: 8/5/2013-8/2/2014
Packager
Jane Street Entertainment
Deep Fried Masters is a reality competition series where it enlists three state fair legends (Gonzalez, Benavides and Stacy) to serve as judges overseeing several challenges including "Signature Dish", "Fried Food on a Stick" and "Judges Choice", as the competitors turn up the heat on fellow fryers.
Over the course of three rounds, we get a behind-the-scenes look at what it takes to survive the deep fry circuit as these golden fry prodigies are graded on their expertise in creativity, marketability and skill level. The winner will be crowned the golden corn dog and earn bragging rights as supreme deep-fried master.
Ad blocker interference detected!
Wikia is a free-to-use site that makes money from advertising. We have a modified experience for viewers using ad blockers

Wikia is not accessible if you've made further modifications. Remove the custom ad blocker rule(s) and the page will load as expected.