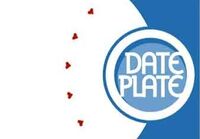 Date Plate
was a one-year dating food game show.
Broadcast
Edit
Food Network: 2003-2004
RIVR Media
Kelly Deadmon
Two contestants each plan and cook a meal in hopes of winning over a blind date who makes his or her selection based solely on the dish prepared. The aim of the game, recipe for romance.
Ad blocker interference detected!
Wikia is a free-to-use site that makes money from advertising. We have a modified experience for viewers using ad blockers

Wikia is not accessible if you've made further modifications. Remove the custom ad blocker rule(s) and the page will load as expected.