Hosts
Kel Mitchell, Alfonso Ribeiro, & Fredro Starr
DJ on the "Wheels of Steel"
DJ K-Sly (Kathleen Taylor)
Broadcast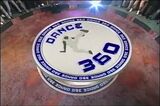 Syndication (Daily): 8/30/2004 – 9/9/2005
Packagers
C to the B Productions
Paramount Domestic Television
Dance 360 was a modern-day short-lived hip-hop dance competition show in which different dancers competed to win $360 in cash and an Xbox video game system or other prizes like a cell phone from Boost Mobile.
The six dancers were selected from the audience at the beginning of the show, as they competed one-on-one, with the winner going on to the next round. They were judged by the level of audience applause. In addition to the prizes awarded, the winner was also given the last few seconds of the show to give "shout outs" to their friends and family.
Catchphrases
Edit
"Yo Fredro/Kel/Alfonso, Where You At (Man)?"
"Three Six Oooh!"
"Tag Your Man!"
"Head To Head!"
The show's title comes from the circle on the dance floor where the dancers competed.
Kel Mitchell previously starred in Nickelodeon shows All That and Kenan & Kel. He currently stars in Game Shakers, which debuted in 2015.
Fredro Starr previously played Moesha's boyfriend Quinton "Q" Brooks on the hit UPN sitcom Moesha.
DJ K-Sly (real name Kathleen Taylor) is a Los Angeles based DJ more known as a radio host.