Host
Tori Spelling
Judges
Erica Domesek
Stephen Brown
Jo Pearson
Broadcast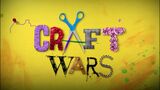 TLC: 6/26/2012-8/21/2012
Packager
Super Delicious Productions
Craft Wars was a short lived reality competition series where three talented crafters go head-to-head to create amazing theme projects all in the hopes of winning a $10,000 cash prize.
First, the contestants face off in the "Pop Craft" challenge, where they must create one of the craft world's most popular items in one hour using surprise materials and just abut any crafting supply they could dream of from "Michaels Craft Closet", supplied by Michaels North America's largest arts and crafts retailer. Then Judges Erica Domesek, Stephen Brown and Jo Pearson would evaluate their crafts and eliminate one contestant. After that, the final two contestants must wow the judges in the challenge of a lifetime, the Master Craft challenge. With their teams, they'll have to use all of their creative prowess and push themselves to the limit because when time is up, only one of them can win the "Craft Wars".
Ad blocker interference detected!
Wikia is a free-to-use site that makes money from advertising. We have a modified experience for viewers using ad blockers

Wikia is not accessible if you've made further modifications. Remove the custom ad blocker rule(s) and the page will load as expected.