Host
Cameron Mathison
Rotating Panel of Judges
Monti Carlo
Nancy Fuller
Eddie Jackson
Brandi Milloy
Jamika Pessoa
Aarti Sequeira
Jake Smollet
Broadcast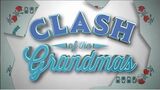 Food Network: 11/13/2016-present
Packager
Triage Entertainment
Clash of the Grandmas is a six-episode, reality competition series and special event where grannies with top-notch cooking skills kick-off.
In each episode, host Cameron Mathison welcomes four grandma super-cooks to the kitchen but only one emerges as the $10,000 winner. From Thanksgiving stuffing transformation and savory hand-held mac and cheese creations to decadent desserts, these grandmas are reinventing dishes with masterful home-cooking skills.
Ad blocker interference detected!
Wikia is a free-to-use site that makes money from advertising. We have a modified experience for viewers using ad blockers

Wikia is not accessible if you've made further modifications. Remove the custom ad blocker rule(s) and the page will load as expected.