Host
Carrie McCully
Broadcast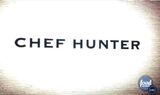 Food Network: 11/6/2011 - 12/15/2011
Packager
Smart Dog/Valencia Productions
Chef Hunter was a short-lived reality series where culinary recruiter Carrie McCully provides a few promising out-of-work chefs the opportunity to audition for a coveted Executive Chef position in some of the top restaurants around the country.
In each episode, the selected chefs are put to the ultimate test as the restaurants' general manager and owner challenge the chefs' culinary skill, business acumen and tenacity required to be an Executive Chef. The chosen chefs then experience the most pressure-filled night of their lives, as they get the chance to run the restaurant for the night. For one chef, getting the job could change their own fate and the fortunes of a top restaurant.
Ad blocker interference detected!
Wikia is a free-to-use site that makes money from advertising. We have a modified experience for viewers using ad blockers

Wikia is not accessible if you've made further modifications. Remove the custom ad blocker rule(s) and the page will load as expected.