Host
Trey Farley
Broadcast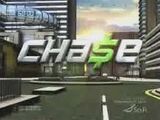 Sci-Fi Channel: 11/11/2008 - 12/16/2008
Packagers
ABC Media Productions
Fuji Television
Cha$e (or Chase and not to be confused with The Chase) was based on a Japanese format called "Run for Money Tosochuu", this stressful and short-lived series has contestants earning winnings for each minute they stay alive.
A Group of contestants are pitted against each other in an effort to win a cash prize while being stalked by "Hunters".

Ad blocker interference detected!
Wikia is a free-to-use site that makes money from advertising. We have a modified experience for viewers using ad blockers

Wikia is not accessible if you've made further modifications. Remove the custom ad blocker rule(s) and the page will load as expected.