Host
Sam Snead
Announcer/Commentator
Harry Von Zell
Broadcast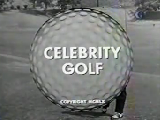 NBC Weekends: 9/25/1960 – 5/21/1961
Packager
Jerry Fairbanks Productions
Celebrity Golf was a celebrity golfing game show.
This game featured celebrity golf match pitted golf legend Sam Snead with the stars of Hollywood in a 9 hole match for charity. They played for charity prize money. The money was as follows:
Winning the match: $1,000
Each par: $250
Hole in one: $10,000
At the end of the match, Snead gave the celebrity golfer a lesson in the finer points of the game.
Ad blocker interference detected!
Wikia is a free-to-use site that makes money from advertising. We have a modified experience for viewers using ad blockers

Wikia is not accessible if you've made further modifications. Remove the custom ad blocker rule(s) and the page will load as expected.