Host
Roger Lodge
Broadcast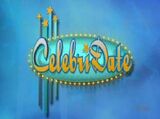 HDNet: 10/12/2011 - 11/10/2012
Packager
Three Point Productions
CelebriDate was a short-lived reality dating series that sets up singles with some of Hollywood's hottest celebrities.
Each week host Roger Lodge would introduce one of his pals to three attractive and interesting men or women. His friend will choose one of the daters and then follow them on a first class night on the town to see if romance is in the air. But what happens when another dater crashes the party? Will the celebrity stick with the original date, trade them in for another or finish the date with both?
Similar Show
Edit
Ad blocker interference detected!
Wikia is a free-to-use site that makes money from advertising. We have a modified experience for viewers using ad blockers

Wikia is not accessible if you've made further modifications. Remove the custom ad blocker rule(s) and the page will load as expected.