Host
Alton Brown
Broadcast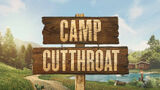 Food Network: 8/12/2015-present
Packager
Embassy Row
Camp Cutthroat is five-episode only summer spinoff special of Cutthroat Kitchen in which twelve cunning chefs compete for victory under the watchful eye of Brown.
Set in a secret location deep in the wilderness, these memorable "Cutthroat" alumni battle for the change to win up to $75,000 in a tournament of great outdoors-themed culinary challenges with a diabolical twists. With extreme tug-o-war and canteen cooking to battles in the camp lake, only the contestants with the strongest culinary chops and sabotage skills make it to the end of camp.
Related show
Edit
Ad blocker interference detected!
Wikia is a free-to-use site that makes money from advertising. We have a modified experience for viewers using ad blockers

Wikia is not accessible if you've made further modifications. Remove the custom ad blocker rule(s) and the page will load as expected.