Starring
Brody Jenner
Broadcast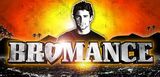 MTV: 12/29/2008-2/2/2009
Packager
Ryan Seacrest Productions
Bromance
was A short-lived reality series where nine men competed in a series of challenges in an attempt to win a "Bromance" or close male friendship with Brody Jenner.
The show was created by American Idol star Ryan Seacrest who also created NBC's short-lived dating series Momma's Boys.
Ad blocker interference detected!
Wikia is a free-to-use site that makes money from advertising. We have a modified experience for viewers using ad blockers

Wikia is not accessible if you've made further modifications. Remove the custom ad blocker rule(s) and the page will load as expected.