Hosts
Jack Lescoulie and Fred Davis
Broadcast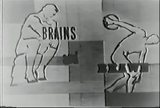 NBC Primetime: 9/13/1958 - 12/27/1958
Packager
Ile de France International Productions
This version of Brains and Brawn plays very different the 1993 version.
There were two teams comprising two contestants each: two celebrity guests formed the "Brain" portion (hosted by Davis) and two other contestants formed the "Brawn" portion (hosted by Lescoulie).
The show's complex structure puzzled audiences and sponsors alike, resulting in the series being sustained by the network and its quick demise.
A slightly similar show called Brains & Brawn aired for a few months in 1993.
Press Photos
Edit
YouTube Links
Edit
Intro of the October 4, 1958 episode (Sally Kirkland & Willie Mays vs. James Laver & Jackie Jensen)
Ad blocker interference detected!
Wikia is a free-to-use site that makes money from advertising. We have a modified experience for viewers using ad blockers

Wikia is not accessible if you've made further modifications. Remove the custom ad blocker rule(s) and the page will load as expected.