Hosts
Arlene Francis (1943–1952)
Jan Murray (1953)
Announcers
Walter Herlihy
Rex Marshall
Ken Roberts
Broadcast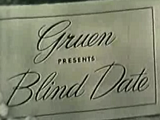 NBC Radio: 7/8/1943 – 8/26/1943
NBC Blue (Radio): 10/25/1943 – 8/25/1945
ABC Radio: 8/17/1945 – 1/18/1946
ABC Primetime: 5/5/1949 – 6/8/1950, 8/31/1950 – 9/20/1951
NBC Primetime: 6/7/1952 – 7/19/1952
DuMont Primetime: 6/9/1953 – 9/15/1953
Packagers
Bernard Shubert Productions
This is an article for the 1949 ABC/NBC/DuMont game show. For the 1999 syndicated reality show, see Blind Date (2).
Blind Date was a primetime dating game show and precursor of The Dating Game.
College men vied for a date with an unseen woman by having conversations with her in this show similar to The Dating Game. The men, known as the "Hunters", from various colleges tried to win a date with the women, known as the "Hunted," for an expense-paid date on the town including an invitation to the Stork Club in New York.
Two men were seated on one side of a wall and telephoned one of the women sitting on the other side. They attempted to talk her into accepting a date with one of them. On the basis of voice and specially prepared questions, she chose the most impressive one of the two for her affections. Those two people became a couple. This process continued until three couples were formed.
At the end of the broadcast, the audience determined which couple would receive the romantic night on the town by means of applause.
Bruen Watch Company
Broadcast History
Edit
When the show was brought back in May 1953, it was called Your Big Moment with Melvyn Douglas. After three weeks on the air, Jan Murray became the new host along with the title reverting itself back to Blind Date.
Taping Location
Edit
New York City, NY

Original host Arlene Francis would later be known as a panelist on What's My Line?
YouTube Links
Edit
A full "Father's Night" episode from May 31, 1951: