Host
Tilman J. Fertitta
Broadcast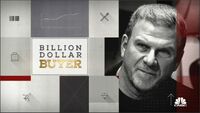 CNBC: 3/22/2016-present
Packager
Endemol Shine North America
Billion Dollar Buyer is a reality show where Tilman visits cities around the United States and checks out two small businesses that could potentially land a deal with Fertitta's multi-billion dollar company called Landry's Inc.
While Checking out each contestant's company, Fertitta gives them business advice and demands change and/or improvement in the products to meet Landry's standards both in terms of quality and finance. While speaking with each contestant, Fertitta gives both time to change and come back regularly to check their improvement. At the end of each episode, Fertitta brings each contestant to his Landry's headquarters to determine whether or not the contestants' businesses will land a deal with him. Typically, one contestant gets a deal while the other doesn't, however, it's possible that both or neither end up getting a deal.
Ad blocker interference detected!
Wikia is a free-to-use site that makes money from advertising. We have a modified experience for viewers using ad blockers

Wikia is not accessible if you've made further modifications. Remove the custom ad blocker rule(s) and the page will load as expected.