Host
Mark DeCarlo
Announcer
John Cramer
Broadcast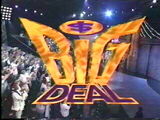 FOX Primetime: 9/1/1996 - 10/6/1996
Packagers
Stone-Stanley Productions
New World Entertainment
Big Deal was a short-lived revamp of Let's Make a Deal with stunts similar to those featured on Truth or Consequences added to give the show its own personality. Some of these stunts were played in order to earn a smaller prize, which could then be gambled for an unknown behind a Curtain or Box a la LMAD; other stunts awarded different prizes based on how well (or how poorly) the contestant performed.
Members of the studio audience were selected to participate in various stunts and games. Among the stunts featured on the first show were a cow milking contest and a family throwing baseballs through the windows of their house to win a vacation.
If a player succeeded, then he or she won a prize. which could be swapped for another prize before the first gift was revealed. Like the original Let's Make a Deal, there was always the chance that the player was trading a valuable prize for a worthless one.
At the end of the show, two players were given the opportunity to trade what they had won on the show for a chance at the Big Deal. Their choice of one of three video walls and what was behind it.
French Version
Edit
A long-running and more successful version of Big Deal under the name Le Bigdil (Let's Make a Deal) hosted by Vincent Lagaf' along with his onscreen CGI alien co-host named Bill aired on TF1 from 1998 until 2004.
Due to low ratings, the series only lasted for six episodes. Of these, only three aired in their entirety on the East Coast; the other three were partially pre-empted by NFL doubleheaders.
The series was originally scheduled to return in Spring 1997, shortened to a half-hour with DeCarlo returning as host. However, these plans were ultimately scrapped later on in development.
A revival of Let's Make a Deal with Gordon Elliott as host in conjunction with Buena Vista Television and Stone-Stanley Productions was planned for syndication in Fall 1999, but plans for it fell through.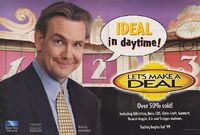 Big Bad Voodoo Daddy
Based on Let's Make a Deal by Stefan Hatos and Monty Hall
Related Shows
Edit
Let's Make a Deal
Trato Hecho
Gameshow Marathon
YouTube Links
Edit
Promo for Big Deal
Segment with a contestant smashing up their car to win a much better one
Segment with two contestants campaigning for the Presidential nomination for the Big Deal Party for the 1996 elections
Partial episode from September 22, 1996
Partial episode from September 29, 1996
Ad blocker interference detected!
Wikia is a free-to-use site that makes money from advertising. We have a modified experience for viewers using ad blockers

Wikia is not accessible if you've made further modifications. Remove the custom ad blocker rule(s) and the page will load as expected.