Broadcast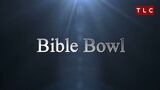 TLC: December 28, 2015
Packager
Znak & Jones
Bible Bowl was a special on TLC where thousands of teams compete in America's Toughest Bible competition.
The series follows seven extraordinary teams whose families have sacrificed everything for the chance to compete for millions of dollars in scholarships and the pride of their coaches and family members. In a race of fingers first to the buzzer, its a battle of determination, memorization and patience.
List of Teams
Edit
The Whitesides
The Johnsons
Hannah Hardman/Trey Mills
Regan Haise
Ishaan Singh
Emily Gass
The Wells Family
Ad blocker interference detected!
Wikia is a free-to-use site that makes money from advertising. We have a modified experience for viewers using ad blockers

Wikia is not accessible if you've made further modifications. Remove the custom ad blocker rule(s) and the page will load as expected.