Host
Ryan Seacrest
Taped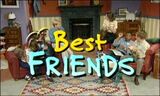 Unsold Pilot: 1991
Packager
Stone-Stanley Productions
Best Friends was an unsold pilot that uses physical and mental challenges to test how well two teams of four friends really know each other.
From Favorite foods to taste in clothes, to secrets only friends would know (at least until now) nothing is sacred, as teams compete in four physical games, a speed round and a final charades-like challenge for a vacation prize package and a half-hour of good times with their friends.
Ad blocker interference detected!
Wikia is a free-to-use site that makes money from advertising. We have a modified experience for viewers using ad blockers

Wikia is not accessible if you've made further modifications. Remove the custom ad blocker rule(s) and the page will load as expected.