Hosts
David Hirsch & Alison Armitage
Referee
Sherri Howard
Hardbodies
Kirsten Ekman Turner
Devon Jenkin
Rich MacDonald
Robert Monterrosa
Broadcast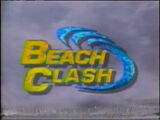 Syndication (Weekly): 9/19/1994 – 9/17/1995
Packagers
Taylorvision
First Media Entertainment
Distributor
All American Television
Beach Clash was a short-lived beach-themed game show similar to American Gladiators.
Two teams of two players (one man & one woman) and two "Hardbodies" competed against each other in a series of beach-oriented events. These included the "Hot Air Climb", "Bungee Basketball", "King of the Raft", "Beach Bout", and, at the end of the show, "Crash and Burn".
In each event, the teams earned points based on how successful they were in the events. The team with the most points at the end of the competition won prizes and moved on in the tournament. At the end of the season, the winners of the tournament won a grand prize of $10,000 in cash plus a Hawaiian vacation.
Pics of the Hosts
Edit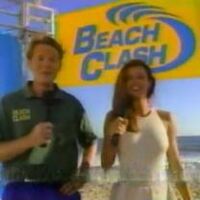 Taping Location
Edit
Will Rogers Beach, Malibu, CA
The show was originally going to be title as Beach Quest (see the "flyers" page for the ad).
Theme by Gareth Young & Treana Morris; Sung by Tag
Bryan Taylor
YouTube Videos
Edit
Detroit Tigerfish vs. Milwaukee Mantarays