Hosts
Buddy Valastro (S1)
Lorraine Pascale (S2-present)
Broadcast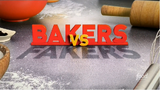 Food Network: 10/2/2016-present
Packager
Cakehouse Media
Bakers vs. Fakers is a reality competition series that puts a combination of four home bakers and trained professionals in the kitchen.
Their true identities are concealed and they must tackle two rounds of challenges, each with a different surprise ingredient. The contestant whose dessert does not make the grade is eliminated after the first round. Then the three remaining bakers go head-to-head in another round with a new secret ingredient. With a level playing field, the judges determine the winner based on taste and presentation, and only after the decision has been made do the contestants reveal their true identities. If a professional's dish is best they take home a prize of $10,000 but if an amateur can beat the odds and the competition, they are rewarded with a even bigger prize of $15,000.
Ad blocker interference detected!
Wikia is a free-to-use site that makes money from advertising. We have a modified experience for viewers using ad blockers

Wikia is not accessible if you've made further modifications. Remove the custom ad blocker rule(s) and the page will load as expected.