Hosts
John Markus (Season 1)
Kevin Roberts (Season 2-present)
Broadcast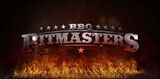 TLC: 12/3/2009 - 9/23/2010
Destination America: 5/30/2012-present
Packager
Original Media
Distributor
Discovery Netowrks
BBQ Pitmasters is an American reality television series which follows barbecue cooks as they compete for cash and prizes in barbecue cooking competitions.
In season one, the right episode series was filmed in a docu-reality format as it followed several competing BBQ teams around the country to various BBQ contest.
In Season two, a completely new competition game show-based format was created. Each week, four teams competed against each other. Challenges included a common protein and more exotic meat. Weekly winners faced-off against each other in the second season finale as they vied for $100,000 and the Kingsford Cup.
In season three, three teams competed in each episode. The winning team will move on to the championship round, where they will compete for $50,000.
Ad blocker interference detected!
Wikia is a free-to-use site that makes money from advertising. We have a modified experience for viewers using ad blockers

Wikia is not accessible if you've made further modifications. Remove the custom ad blocker rule(s) and the page will load as expected.