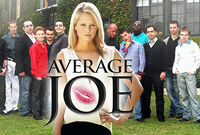 Average Joe was a four seasoned reality dating game show in which a group of "Average Joes" try to win over a girl's/guy's heart.
Broadcast
Edit
NBC: 2003-2004, 2004-2005
GSN: 2004 (in reruns)
Fox Reality Channel: 2004-2005 (in reruns)
Melana Scantlin (Season 1)
Larissa Meek (Season 2)
Adam Mesh (Season 3)
Anna Chudoba (Season 4)
List of series
Edit
Average Joe November 3, 2003-December 3, 2003
Average Joe: Hawaii January 5, 2004-March 1, 2004
Average Joe: Adam Returns March 15, 2004-April 5, 2004
Average Joe: The Joes Strike Back June 28, 2005-July 27, 2005
A gorgeous lady/handsome guy is cast as a "bachelorette/bachelor" in order to find her/his dream man/woman. When her/his suitors arrive, s/he finds that they are just the average looking guys/girls and not the handsome/gorgeous hard-bodies/hotties as s/he was hoping; however, as s/he gets to know the average fellas/chicks, a new group of studs/babes are brought in to change the complexity of the game later on.
Different Versions
Edit
There were four different versions of the show for each season: Season 1 was just the regular "Average Joe", Season 2 was called "Average Joe: Hawaii", Season 3 was called "Average Joe: Adam Returns", and in Season 4, it was called "Average Joe: The Joes Strike Back".
French Version
Edit
A French adaptation of Average Joe under the title La Belle et ses Princes Presque Charmants (Belle and Almost Charming Princes) aired for three seasons on W9 since 2012.

Average Joe: The Joes Strike Back is a semi-reference to the 1980s film Star Wars: The Empire Strikes Back.
A role-reversal of the series under the title Plain Jane, where it featured a group of ordinary women who were to compete for the love of a very handsome man was planned in the works. However, the series was never materialized and the title alone was used for another reality series with a different concept where it features host Louise Roe transforming ordinary women from head to toe in a fashion makeover style each week.
Ad blocker interference detected!
Wikia is a free-to-use site that makes money from advertising. We have a modified experience for viewers using ad blockers

Wikia is not accessible if you've made further modifications. Remove the custom ad blocker rule(s) and the page will load as expected.