Anything You Can Do
Talk

0
1,707pages on
this wiki
Hosts
Gene Wood (1971-1972)
Don Harron (1972-1974)
Announcer
Bill Luxton
Broadcast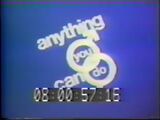 Syndicated 9/13/71–9/1974
Packager
Don Reid Productions
A stunt-based game show shot in Canada with two teams of three. This was a typical battle-of-the-sexes stunt/dare show.
Two teams of three (three men vs. three women) compete in a battle-of-the-sexes stunt/dare game. They faced a board at center stage consisting of four occupations, two male occupations & two female occupations. The men's team picked one from the women's side of the board and the women's team picked from the men's side. The object of the game was to complete each stunt in less than 90 seconds (1:30). The times were accumulative throughout the game, in other words the times the teams performed the stunts in were added to their time score. The team with the least total amount of time won the game and big prizes. The losing team won smaller prizes.
There was also a "mental challenge" about midway through the show; the teams would have to complete some activity such as unscrambling a word, reciting a tongue twister, etc. The time taken to complete the task was added to the team's overall time.
"Anything You Can Do" by Irving Berlin
Gene Wood, the future announcer of Family Feud and the then-current announcer of another stunt show Beat the Clock, hosted the first season. He left after learning that some of the stunts were not as safe as executive producer Richard Reid assumed they were. Reid was made a liar when some contestants were injured in the playing of those stunts. Don Harron of Hee Haw fame became the new host starting in the second season, and Gene was promoted to host Beat the Clock, replacing the departing Jack Narz.
Josh Rebich's Anything You Can Do Rule Sheet
YouTube Videos
Edit
The first taped episode of the show