Host
George Fenneman
Announcer
Ed Chandler
Assistant
Judy Bamber
Scorekeeper
Andy Stewart
Broadcast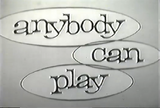 ABC Primetime: 7/6/1958 - 12/8/1958
Packager
John Guedel Productions
"ED: Tonight our contestants will be asked to identify stars in disguise. Can you identify this television star? Well, if you can't, I tell ya! It's Andy Stewart, assistant scorekeeper on ANYBODY CAN PLAY! Anybody Can Play presented by Salem cigarettes: Menthol Fresh; Rich Tobacco Taste; Modern Filter, too. JUDY: And here's our "Anybody Can Play" boy, George Fenneman!"
Anybody Can Play was a short-lived primetime game show where players competed to answer trivia questions more quickly than their opponents.
Four studio contestants competed for cash and prizes by answering questions on a point system. The questions ranged over many subjects, from naming a celebrity to guessing song titles. Players remained on the show for four weeks (later reduced to two) and viewers at home had a chance to win a $10,000 jackpot by correctly guessing a player's age, weight and ability. 
In the last month of the show, Judy Bamber was added as an assistant.
YouTube Link
Edit
Ad blocker interference detected!
Wikia is a free-to-use site that makes money from advertising. We have a modified experience for viewers using ad blockers

Wikia is not accessible if you've made further modifications. Remove the custom ad blocker rule(s) and the page will load as expected.