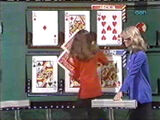 Ann Victoria Pennington (born June 3, 1950, in Seattle, WA) is an American model and actress. She is the sister of Janice Pennington. Ann is best known for modeling on Card Sharks, but she did substitute on the nighttime syndicated The Price Is Right in 1976. She married Shaun Cassidy in 1979; they had two children together before divorcing circa 1992.
Shows on which she appeared
Edit
Ad blocker interference detected!
Wikia is a free-to-use site that makes money from advertising. We have a modified experience for viewers using ad blockers

Wikia is not accessible if you've made further modifications. Remove the custom ad blocker rule(s) and the page will load as expected.