Host
Alan Thicke
Model
Debbie Bartlett
Voice of Reggie the Heggie
Susan Blu
Broadcast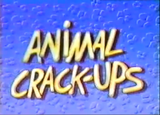 ABC: August 8, 1987-September 1, 1990
Packagers
Vin Di Bona Productions
ABC Entertainment
A game show where celebrities competed by answering wildlife themed trivia questions to win $2500 for their favorite charities.
Although this was considered a game show for children, no civilians participated in this show.
Four celebrities competed in the game. The host Thicke would play a video clip about an animal. At some time in the video, the tape would be paused and Thicke asked a question about the clip to the contestants. The celebrities give their answers, after which the remainder of the clip was played, revealing the answer. At one point in the game, each were asked individual questions. Correct answers from celebrities received points. The score was kept in stuffed animals, usually monkeys in front of the podiums. The celebrity contestant with the most stuffed animals won the game and $2500 for their favorite animal charity. If there was a tie at the end the game, the money was split between the charities whose celebrities were tied.

Main - "Animals Are Just Like People Too" written by Thickovit music (Alan & Todd Thicke and Gary Pickus) & sung by Alan Thicke
Based on a Japanese game show entitled, Waku Waku
ABC Television Center, Hollywood, California
International Versions
Edit
Here is a list of countries that aired Animal Crack-Ups:
Brazil
Portugal (Arca de Noe)
Spain (also entitled Waku Waku like the Japanese version)
Animal Crack-Ups at Vin Di Bona Productions
blog about Animal Crack-Ups
Video clip of the show's intro

Ad blocker interference detected!
Wikia is a free-to-use site that makes money from advertising. We have a modified experience for viewers using ad blockers

Wikia is not accessible if you've made further modifications. Remove the custom ad blocker rule(s) and the page will load as expected.