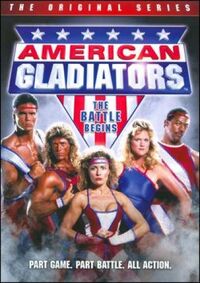 A Electronic handheld game was released by Tiger Electronics in 1990.
A Game for the NES was released in 1991, and the SNES in 1993 , while games for Genesis, PC, Atari ST and Amiga were released by GameTek in 1992.
A series of toys and action figures based on the original incarnation were released by Mattel in 1991.
A set of trading cards were released by Topps in 1991.
Ferrara Foods released Candy Bars based on the show in 1993.
Various DVD based on the original and it's short-lived NBC primetime revival have also been released.
A t-shirt based on the original program has been released.
A soundtrack CD based on the original version was once released by Sandstone Music in 1993, featuring cuees that were used in the show plus the opening and closing theme song composed by Bill Conti.
Ad blocker interference detected!
Wikia is a free-to-use site that makes money from advertising. We have a modified experience for viewers using ad blockers

Wikia is not accessible if you've made further modifications. Remove the custom ad blocker rule(s) and the page will load as expected.