Host
Susie Castillo
Judges
Brooke Hogan
Theo Von
Jai Rodriguez
Susan Schulz
Broadcast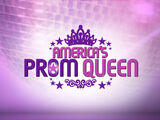 ABC Family: 3/17/08-4/21/08
America's Prom Queen
was a short-lived reality show in which ten teenage girls all live together in a mansion to take part in a series of challenges to determine if they're worthy of being crowned prom queen.
The show follows ten girls aspiring for the title of "America's Prom Queen". Each week, the girls face a prom-related challenge, and girls will be eliminated until one remains.
Susie Casillo was a former Miss USA winner.
Brooke Hogan is best known for being the daughter of pro wrestler Hulk Hogan and for starring in the hit VH1 reality series Hogan Knows Best and later Brooke Knows Best.
On April 21, 2008 Katelyn Morgan was crowned as America's Prom Queen.
Ad blocker interference detected!
Wikia is a free-to-use site that makes money from advertising. We have a modified experience for viewers using ad blockers

Wikia is not accessible if you've made further modifications. Remove the custom ad blocker rule(s) and the page will load as expected.