Host
Gene Rayburn
Announcer
Kenny Williams
Broadcast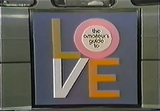 Pilot: 8/8/1971
CBS Daytime: 3/27/1972 – 6/23/1972
Packagers
Merrill Heatter-Bob Quigley Productions
GENE: "This little truck goes everywhere in search of lovers - In search, really, of you and me. For each of us, at some time, has been involved with matters of the heart. Our truck goes to beaches, supermarkets, department stores, wherever there are people. We park outside, hide our camera and observe our fellow creatures struggling to do their best in romantic situations. Love has been with us since the dawn of creation, but still, we've never really learned how to handle it. The Amateur's Guide to Love is here to help."
KENNY: "Now meet our guidebook advisers: (insert three celebrity guests), and here's your host on The Amateur's Guide to Love, Gene Rayburn!"
The Amateur's Guide to Love was a short-lived romantic game show where three celebrity guests (better known as "guidebook advisers") involved unsuspecting people on the street in comedy situations.
Each episode began with theme music by Mort Garson, set to shots of a van emblazoned with the Amateur's Guide to Love logo, driving around southern California, with scenes of men and women falling in love with each other. As the van travels around, Rayburn set the scene for the show. Afterward, the show would then cut to the studio, where announcer Kenny Williams would introduce this weeks' panelists ("our guidebook advisors") and Rayburn.
The show somewhat resembled Candid Camera, a show involving guest celebrities and unsuspecting civilians. These people were involved in a comedy situation, taped on location in Southern California using a hidden camera. The subjects in the particular situation were given two choices that were somehow related to sex, marriage or love. The person in each situation was faced with the need to make one of two possible decisions on a matter related in some way. A celebrity panel located in the studio discussed the situation and voted upon which move would be the wisest. The subject in general would receive $200 if the celebrities were correct in the prediction of the outcome, but if incorrect it would cost them only $100.
Amateur's Guide was CBS' first daytime game since the cancellation of To Tell the Truth in September 1968. The series replaced reruns of Gomer Pyle, USMC at 4 p.m. (3 p.m. Central). However, the show failed to make an impact against Somerset on NBC and daytime rebroadcasts of the popular Love, American Style on ABC. Reruns of the sitcom Family Affair replaced it on June 26. Later that year, CBS returned with game shows in its daytime lineup on September 4 with The New Price Is Right, Gambit and The Joker's Wild. Rayburn himself would return to CBS in July 1973 with a revival of his hit NBC show Match Game.
Only one episode is known to exist. The series is thought to be destroyed, but this is not certain as CBS ceased this practice by September 1972. If Amateur's Guide was wiped, it would have been the last game show treated in this manner by the network.

CBS Television City, Hollywood, CA
Episode Guide
Edit
Information on celebrity guests was taken from a variety of newspapers on newspapers.com.
| Aired | Celebrities | Notes |
| --- | --- | --- |
| August 08, 1971 | Rose Marie, Michael Landon, Dick Martin, Peter Marshall | Four celebrity panelists instead of three, and hosted by Joe Flynn (of McHale's Navy) instead of Gene Rayburn. |
Spring 1972 series
Edit
| Week | Episodes | Aired | Celebrities | Notes |
| --- | --- | --- | --- | --- |
| 01 | #01-#05 | March 27-31, 1972 | Michael Landon, Nanette Fabray, Harvey Korman | Series premiere on CBS-TV! The only surviving episode comes from this week. Featured film clips of Karen Valentine, Marty Ingles, and James Darren. |
| 02 | #06-#10 | April 03-07, 1972 | Charles Nelson Reilly, Karen Valentine, Peter Lawford | Featured film clips of James Darren. |
| 03 | #11-#15 | April 10-14, 1972 | James MacArthur, Joan Rivers, Arte Johnson | Featured film clips of Sue Ane Langdon and James Darren. |
| 04 | #16-#20 | April 17-21, 1972 | Joey Bishop, Connie Stevens, Hugh O'Brian | Featured film clips of James Darren and Marty Ingles. |
| 05 | #21-#25 | April 24-28, 1972 | Buddy Hackett, Joan Rivers, Joseph Campanella | Featured film clips of Ann Elder, Michael Landon, and James Darren. |
| 06 | #26-#30 | May 01-05, 1972 | Buddy Hackett, Eva Gabor, Vincent Price | Featured film clips of James Darren, Elizabeth Allen, and Don Morrow. |
| 07 | #31-#35 | May 08-12, 1972 | Martin Milner, Joan Rivers, Charles Nelson Reilly | Featured film clips of Linda Kaye Henning and Cesare Danova. |
| 08 | #36-#40 | May 15-19, 1972 | Terry-Thomas, Karen Valentine, Marty Allen | |
| 09 | #41-#45 | May 22-26, 1972 | James Farentino, Jo Anne Worley, Mickey Rooney | |
| 10 | #46-#50 | May 29-June 02, 1972 | Peter Marshall, Joan Rivers, Bob Crane | Featured film clips of James Darren, Linda Kaye Henning, and Patti Deutsch. |
| 11 | #51-#55 | June 05-09, 1972 | James Brolin, Rose Marie, Soupy Sales | Featured film clips of Linda Kaye Henning and Patti Deutsch. |
| 12 | #56-#60 | June 12-16, 1972 | Tony Randall, Joan Rivers, Peter Lawford | Featured film clips of Linda Kaye Henning and Jeannie Riley. |
| 13 | #61-#65 | June 19-23, 1972 | Jan Murray, Dr. Joyce Brothers, John Davidson | Series finale! Featured film clips of George McAllister, Jr. and Jeannie Riley. Replaced with reruns of My Three Sons the following Monday. |
YouTube Links
Edit