Host
Kristen Kenny
Broadcast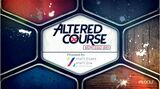 Golf Channel: 6/15/2015-8/3/2015
Packager
G0olf Channel Original Productions
Altered Course (also known as Altered Course Montego Bay) is a reality competition series where it requires teams to navigate re-imagined golf holes in excess of 700 yards all the while traversing natural obstacles they encounter along the way.
Taking place in Montego Bay, Jamaica, and presented by the all-new Hyatt Zilara and Hyatt Ziva Resort, this tournament-style competition series will feature eight two-person teams racing against the clock as they take on the twists and turns of these extreme golf holes. One Altered Course hole can incorporate upwards of three traditional golf holes, with the teams competing in a variety of formats, including alternate-shot and scramble. Teams will be scored on a combination of strokes and the time it takes them to complete the hole. Weekly eliminations will leave one team ultimately left standing as a champion, pocketing a grand prize of more than $100,000 in cash and prizes.
Ad blocker interference detected!
Wikia is a free-to-use site that makes money from advertising. We have a modified experience for viewers using ad blockers

Wikia is not accessible if you've made further modifications. Remove the custom ad blocker rule(s) and the page will load as expected.